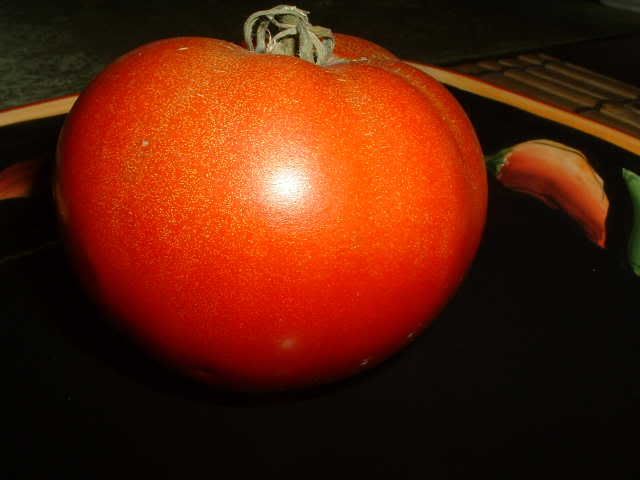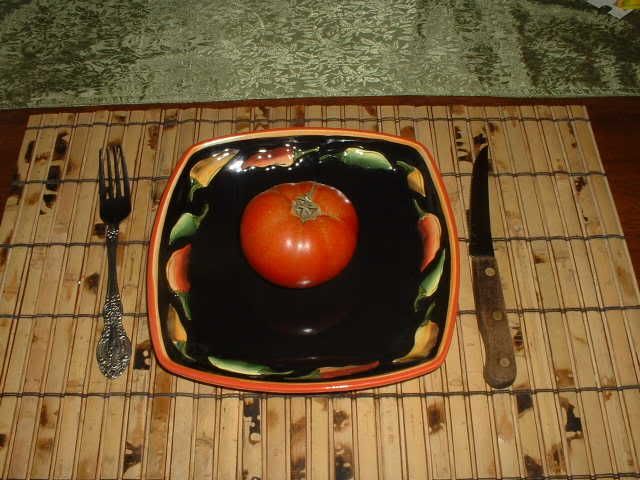 Well, it's been a while (again!) since I've posted something
here, so I thought I'd do a quick one before I head to bed and put up some pics I've had for a few days now ... not as exciting as Hibiscus or

Sports

, but for an Iowa gardener, this is what we live for! (Well, there's the sweet corn too, but that's just now hitting the streets in force.) This is the first tomato from the garden this year, and though the pics aren't exactly new --and the subject was eaten a while back-- it's a moment of excitement around here!!

This tomato appears to answer the ages old debate about whether it's better to plant big plants in the spring to get earlier tomatoes, or just take your chances with the little ones most of us plant. Well, this one is a new variety of

Celebrity

that I found this year... a "Bush variety" (I know... nasty name!) that supposedly only grows to about 24" but produces regular sized fruit. It was sizeable when I put it in, and true to form, it was the first to produce edible fruit! This was taken about a week and a half ago, and has long since been eaten (and it was good!), so due to my slackatude, only now is appearing here... I picked about 5 more yesterday from this and other vines, and they are awaiting BLTude coming very soon! (Probably today.)

You tomato growers know what this means ... can salsa days be far behind? Only my peppers know at this point, and they are not doing well this year due to the excessive heat. Hopefully I can muster up enough peppers to round out a batch at some point!