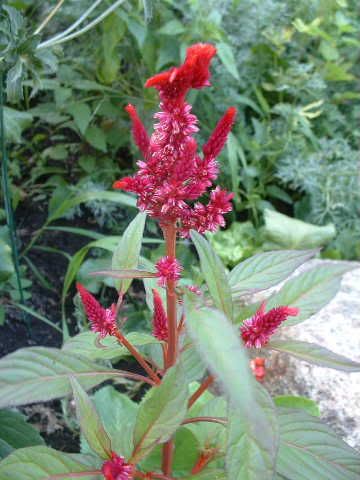 Here's another one of the

Celosia

sports I've been talking about in previous posts ... my apologies for not yet writing the piece I really want to do about them, but I got a little sidetracked in my writing tonight, as the following post will demonstrate. This one is a fairly regular visitor to the garden, and I can pretty confidently attest to its origins. This odd little guy is clearly a cross between

Celosia plumosa v. New Look

and a dwarf version Celosia cristata v. Jewel Box

.



I mistakenly bought and planted the

Jewel Box

variety a few years ago, thinking it was a larger version, and it refuses to give up its spot in the garden.

New Look

is a relatively new, compact (12-14") variety with lovely red foliage that we always plant every year, just to make sure we have the real thing around in the garden.

With any luck, I'll get some better pics of these guys this weekend and elaborate on them a bit more at length. There are more wonders to be seen from the realm of

Celosia

, so just be patient and stop in again!