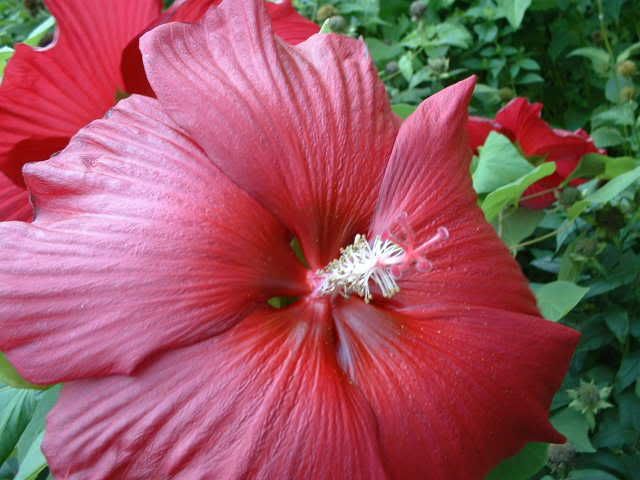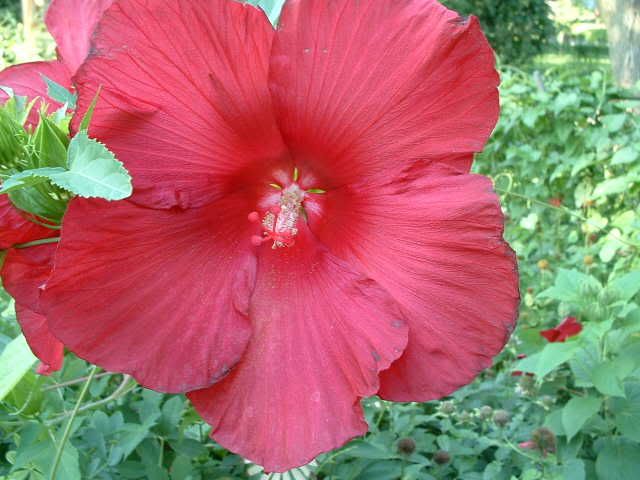 Since I'm not ready yet to put up my

Summer Sports Partie 3

post yet, I thought I'd just give you all another taste of the ongoing

Hibiscus

show going on around here.... so tonight I'd like to introduce

Lord Baltimore

, a stately

Hibiscus moscheutos

variety that is one of my favorites. In terms of growing habit, it's one of the taller varieties, often reaching 6-7 feet high, with fewer blooms than some other varieties, but the red is so brilliant, you have to forgive him for being a bit stingier than his cousins.... But in any case, for the right sunny spot in the garden, you can't go wrong with

Lord Baltimore

, and the nice thing is, it seeds readily, and you can always start new ones if you collect them when the pods are ripe enough and pop open. From what I know, this is one of the older, more common varieties, but it's a classic. If you only have one or two

Hibiscus

in your garden, this should take its place along with

Kopper King,

the other one pictured on this page. I wanted to post this particular picture because it shows how they cluster and can produce multiple blooms at the same time.

In any case... that's all for now, but I'm working on getting the

Celosia

sports post worked out in my head and will have it up very soon... there's just one pesky one that I can't get a clear shot of (due to wind mostly) that I want to include, and that shot may come today, weather willing! Stay tuned....