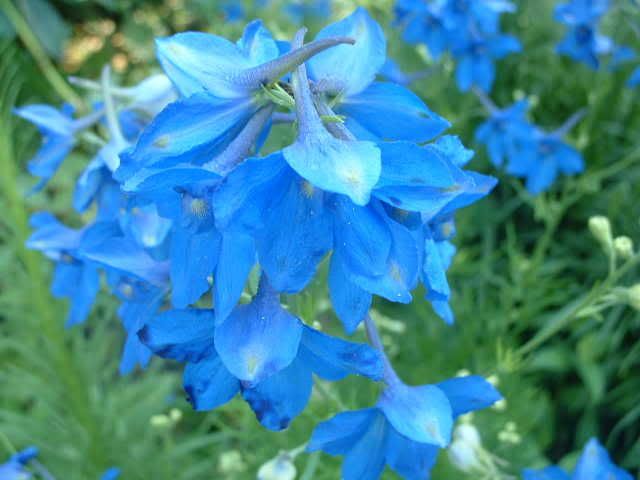 This is the perhaps (at least to me) long-awaited continuation of the June

Delphinium

posts. Tonight's example is a "Blue Butterfly" (

Delphinium chinensis, v. Blue Butterfly

), a truly garden worthy example of a

Delphinium

that straddles the border between Larkspur and true

Delphinium.

Without going into the whole debate of

Consolida

("Larkspur") and other varieties of

Delphinium

, suffice to say that for me, this plant represents a bit of the missing link. Whereas Larkspur tends to grow in spikes of closely clustered or sprays of flowers with "spurs," "Blue Butterfly" seems to capture the best of both worlds because it retains the airy nature of Larkspur, yet has clearly identifiable

Delphinium

flowers ... they're just not packed into a spike like the larger varieties.

It's perennial (Larkspur is not, though is a self-seeding hardy annual), and has some features that further distinguish it from its statelier cousins the "Pacific Giants" and "Magic Fountains" varieties. "Blue Butterfly" is much more heat and drought tolerant, it is shorter (reaching about 36 inches if really happy), and has a longer bloom season. Its foliage more closely resembles Larkspur, as do the sprays of flowers set forth from indeterminate branches rather than from a central stalk like its taller cousins. In many ways, it is actually the ideal

Delphinium

to plant because of its exceptional hardiness, not to mention the magnificent flowers it produces from June to late July. If you're someone who has always wanted

Delphiniums

but was afraid to try them due to their fickleness, give this plant a go in the garden! The ones depicted in these pictures are plants I started from seeds about six years ago or so. I let them go through their complete cycle, produce seeds and collect some and let the rest fall where they may. I've found that this assures a steadily growing clump which eventually expands (they spread relatively slowly at least for me) and helps fill in the area where it is planted. In fact, a certain degree of neglect for this member of the

Delphinium

family is almost a good thing, as when it is left to its own devices and given the right environment, it thrives and returns fuller each year.

If you're going to buy either seeds or plants (which are more readily available these days in garden centers, even the big box stores!), make sure that you give it a spot with plenty of room to expand, well drained soil in a sunny position (full to part sun), and plenty of TLC its first year to make sure it gets a good start. Keep it well watered in exceptionally dry periods and just let it do its thing! Of all true

Delphiniums

(and I'm still debating that point, but that's another post), it is by far the easiest and one of the most impressive (sorry tall guys, this one's great too!) to plant.

The late afternoon play of light through the flowers is magical. Airy sprays of deep blue flowers bathed in light produce an almost hazy effect of pure blue, which in our garden, is a prized quality. It looks fantastic planted with other plants, and these particular examples inhabit a small bed with a couple of columbines, a plethora of

Liatris spicata

("Blazing Star") and is bordered by California poppies (

Escholzia californiensis

), which dramatically set off the blue to great effect. It's one of my favorites and could easily become one of yours if you decide to devote a spot to it in your sunny border ....