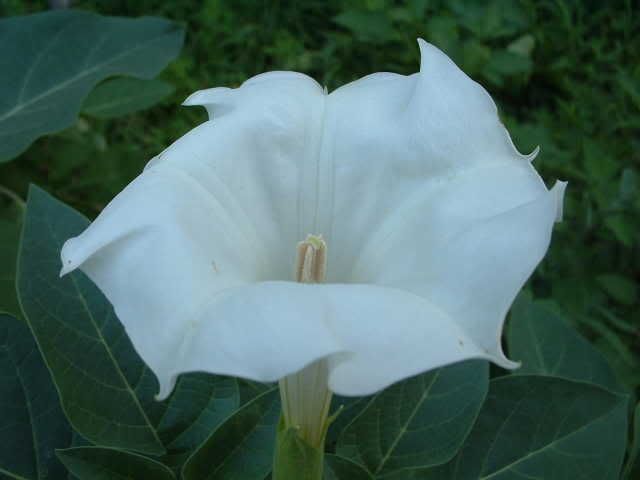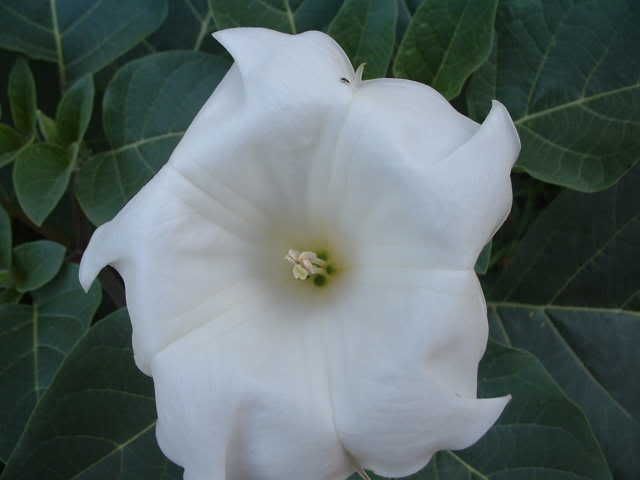 This is going to be a late night, fly by post, so apologies in advance! (And super special apologies to Cat Stevens, aka, Yousef Islam.) Just a few shots of

Datura meteloides

, aka "Moonflower" or "Angel's Trumpet." One of the most tenacious annuals you might ever plant, with its spiny "thorn apple" seed pods which burst to disperse literally thousands of seeds in the fall ...so if you're not careful about snipping the pods before they ripen, you will never rid your garden of them... which, for most of us who like them, is not such a bad thing.

These plants have a bad rep. Also known as "Jimson Weed," "Stink weed" and "Loco Weed,"

Daturas

are known for poisoning animals (and silly humans) who dare ingest any part of the plants. But, as an annual specimen, they are spectacular! Their flowers open at night, attracting sphinx moths and other night feeders and their fragrance is lovely .... despite their lowly "stinky foliage." Nonetheless, they are vigorous, fast growing plants that can reach heights of about 5-6 feet if in an ideal location, and they bloom constantly for months on end... as long as you can

try

to keep up with the seed pods! Lest I damn them too much with faint praise, just let me conclude by saying that there are few annuals easier than

daturas

to grow (well, maybe zinnias, but that's a toss up!) and they never cease to amaze passersby ... so as long as nobody gets any ideas about ingesting them, or if you have pets that might munch on plants, they are well worth planting a few in a sunny spot to make your moonlit evenings in the garden a bit more dramatic....